Afghanistan Digital Care Guide - English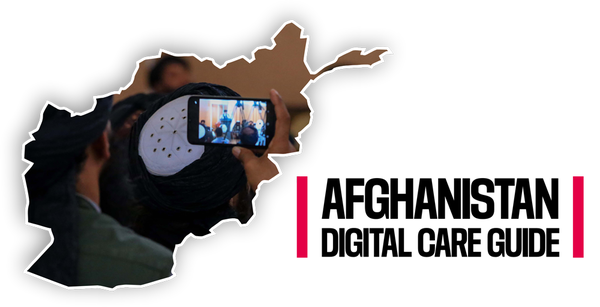 رهنمایی مصونیت دیجیتالی افغانستان به دری | په پښتو د افغانستان لپاره د ډیجیتالي مصونیت لارښود
Care is Resistance
"Caring for myself is not an indulgence, it is self-preservation and that is an act of political warfare" (Audre Lorde)
Taking care of your device and data is not only to protect yourself, but also your whole community.
Journalists, media workers, and activists run the risk of their lives, in case, online and other data, apps, and/or contacts are being used as evidence against them or someone linked to them. Access to this data, apps etc. might be gained. The following scenarios might occur:
Confiscation of, and access to phones, tablets, computers, smart watches, and other storage devices (USBs, external hard drives, etc.) during raids, searches, detention, at check-points etc.
Surveillance of digital communication and online connections
Digital attacks on devices and accounts
Open Source Intelligence: research on publicly available platforms like Facebook or Wikipedia
Being aware, that not all risks can be prevented, certain steps such as having less data on our devices, using secure channels of communication and securing our devices can reduce the likelihood or impact of, that data or apps being turned into evidence. At the same time, some of these secure practices can turn into risks, if secure apps would be detected and framed as indicators of being linked to the wrong actors (e.g. international community or alike).
Risk
Prevention steps
Response steps
Remarks

Confiscation of and access to phones, tablets, computers and smart watches during raids, searches, detention and checkpoints etc.


Reducing data on our devices to the bare and inconspicuous but realistic minimum
Securing data on our device
Securing devices
Creating encrypted backups of all data

Not giving access to the devices
Remotely wiping devices or automatic wiping of devices on failed login-attempts
Informing affected people
Recovering data and accounts

Important decision: Will you give access to your devices under pressure?
Consider, if encrypted backups or other encrypted files and folders could trigger attention and pose an additional risk for you?

Surveillance of digital communication and online connections (by authorities, their allies, internet service providers, telecommunication companies)

Securing online accounts
Using secure online services (end-to-end encrypted messengers, online storage, searches, video conferences, etc.)
Securing our internet access through VPN or alike

Document the surveillance if possible
Activate mechanisms of abuse protection of the service providers
Backup and deactivate the affected accounts

Secure apps and channels like VPNs might trigger attention themselves and might be risky to use

Digital attacks on devices and accounts (spyware and hacking attacks and planting of evidence by authorities and their allies, criminals)

Securing devices
Securing online accounts
Updating of firmware and software
Refusing contact requests by unknown persons through social media

Document attacks and all evidence
Take the attacked device offline
Recover accounts via the provider or emergency helplines
Enable 2-Factor-Authentication on regained accounts

Open Source Intelligence (OSINT): research on publicly available platforms like Facebook or Wikipedia

Reducing digital footprint by removing information or requesting the removal of information from online platforms

Trying to remove evidence from online platforms

Be aware that a lot of online information cannot be removed completely and if done then only with delays due to distributed backups and platforms like the way-back-machine and other internet archiving services.
Credits
This guideline is based on interviews with Afghan journalists as well as on these guides:
1. Online safety resources for Afghanistan's human rights defenders (EN): https://www.accessnow.org/online-safety-resources-afghanistan/
2. Checklist for Afghans. Minimise Risk through Data on Phones/Devices (20 August 2021; EN, Dari, Pashto): https://docs.google.com/document/d/19GPJDmMLPagNnbumZwmKZGJaIiRMFmHiJKtuvmL6wl8/edit
3. Digital Security Resources for Afghanistan. Internet Shutdowns, Online Privacy (EN, Dari): https://drive.google.com/drive/folders/1v9WvDvoCPjP13Y2Lsd0hqwDt6mqEgvtW
Please note: The information and resources provided in this guide are current as of May 2022. We plan on making an updated version available every six months for at least next two years. The updates will be available for download at: https://helpdesk.rsf.org/digital-security-guide/afghanistan-digital-care-guide/